What We Do
Got prospects? Shane and Nelson Spear want to take a look at them. We own investment companies and are interested in seeing your profitable ventures. (Non-profitable ventures we've seen enough of.) Our group has helped fund American oil and gas discoveries for over 50 years.
Want to lease from us? We do that too.

Interested in a profitable venture yourself? Leasing opportunities await in this prospect featured at NAPE 2019. Check out the deep rights in this hot play in Campbell County, Wyoming.
Contact us to find out more about this opportunity and our private holdings throughout the country.
Our Business Environment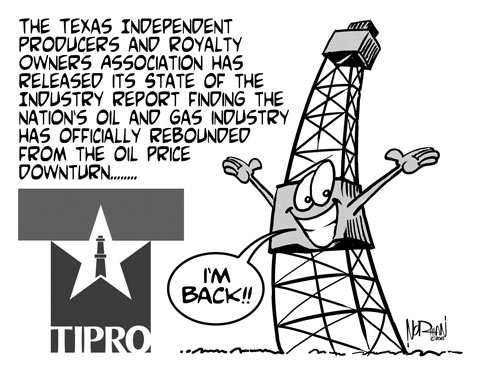 Cartoon by Norman Johnson, courtesy of the Midland Reporter-Telegram.
Our Companies
Want to learn the history and activity of a particular company? (Who wouldn't?) Click below.
Our Blog
We attempt to keep our avid followers informed of corporate activities and any other news of interest to us via the blog on the right. Like any other venture, we participate in blogging only with a clear understanding of its inherent risks. For example, "A fool finds no pleasure in understanding, but delights in airing his own opinions" (Prov. 18:2).
As you will discover while browsing through our site, appearing foolish is a risk we are willing to take.