What We Do
Got prospects? Shane and Nelson Spear want to take a look at them. We own investment companies and are interested in seeing your profitable ventures. (Non-profitable ventures we've seen enough of.) Our group has helped fund American oil and gas discoveries for over 50 years.
Want to lease from us? We do that too.

Interested in a profitable venture yourself? Leasing opportunities await in this prospect featured at NAPE 2020. Check out the deep rights in this hot play in Campbell County, Wyoming.
Contact us to find out more about this opportunity and our private holdings throughout the country.
Our Business Environment
Regarding the plummeting price of oil so far in 2020: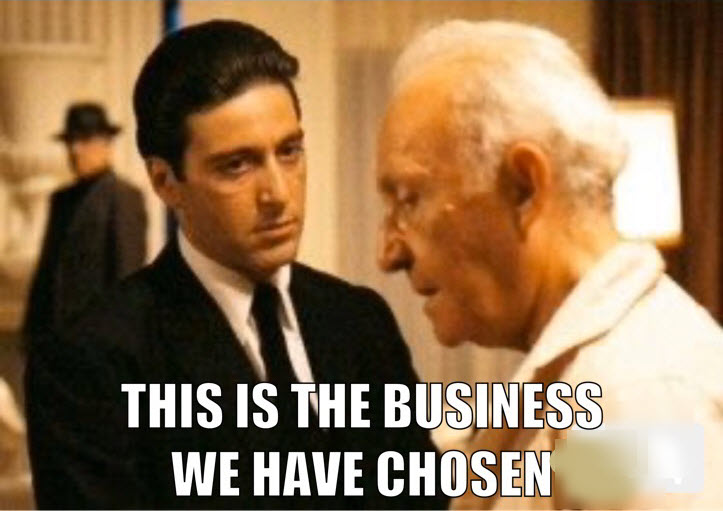 (Hyman Roth to Michael Corleone regarding a similarly stunning abrupt demise recently encountered in their line of work)
Our Companies
Want to learn the history and activity of a particular company? (Who wouldn't?) Click below.
Our Blog
We attempt to keep our avid followers informed of corporate activities and any other news of interest to us via the blog on the right. Like any other venture, we participate in blogging only with a clear understanding of its inherent risks. For example, "A fool finds no pleasure in understanding, but delights in airing his own opinions" (Prov. 18:2).
As you will discover while browsing through our site, appearing foolish is a risk we are willing to take.

What's Going on with Spear Brothers
I'm sorry Dave, I can't let you draw that
Jan 03, 2020 in Web News
The march to fully automate the oil field has made yet another stop at the Spear Brothers Group. Now, in addition to our systems for accounting and document management we are adding Enverus MineralSoft to the mix - a comprehensive mineral and land management platform. After we have completed onboarding, we are looking forward to experiencing an improved ability to evaluate offers and investments, a new set of tools to manage revenue and a marked drop in the practice of hand-drawing property maps from complex legal descriptions. An overall positive impact is anticipated to the collective psyche of the group; however, long-held emotional ties to coloring grids with highlighters may prove difficult to break. ("Put the markers BACK")
Oh No, They Didn't
Mar 01, 2018 in Web News
Overheard in a recent SBG staff meeting: "What are these two companies you are talking about? I have never heard of them." Reply: "Well, to tell you the truth, we forgot we had them." (Future staff meeting agenda item: "Intervention") #INCADDICTS
Turning Over New Leaves in 2017
Nov 01, 2017 in Web News
Change was certainly in the air at SBG in 2017. Oil prices, staff and responsibilities all fluctuated significantly but have now settled comfortably like wind-blown leaves in autumn often do - and at about the same time. Early in the year, Lori graciously agreed to step into the role of SBG's Office Manager, a position that came with big shoes to fill after the resignation of long-time employee and friend, Cami. Additionally, new administrative responsibilities fluttered into Nancy's role which she thankfully did not choose to sweep away, but rather embrace. So we end this year extremely grateful for the 'pile of leaves' now resting comfortably under the SBG tree. (Incidentally, our Safety Officer strictly prohibits any jumping in it)
Gulf Coast Finally Takes the Plunge
Jan 29, 2016 in Web News
Last, but not least, this month Gulf Coast Oil and Gas Company will join a number of our other companies who consolidated their leases into the pool which now holds the majority of our oil and gas interests: Realeza, Trabajo, and Tierra Del Spear. Come on in, Gulf Coast, the water is fine! (considering the plunging price of oil, the water is not only fine, but investing in it may in fact be more profitable)
Austin Suspends "Weird" Reputation for Five Months
Jun 05, 2015 in Web News
SBG welcomes back Nelson, who spent the first five months of 2015 in Austin serving the Texas Legislature (specifically the office of Fort Worth State Senator, Konni Burton). While there, he played a key role in the crafting and passage of a bill that would greatly reduce the amount of superfluous paperwork Texas teachers are currently drowning in (yes, you heard right, it is an attorney-initiated measure to reduce paperwork). He also helped to craft and pass several resolutions including one that encourages the soon-to-be-relocating US Africa Command to make their new home here in the Lone Star State (miles and miles of land currently available because... well, it is Texas). Now, with the long days of wrestling politicians and traffic behind him, Nelson returns to Midland, glad for the experience and ready to rejoin the normal, serene work environment at SBG. Welcome back, Soldier.
Blog Archives >>